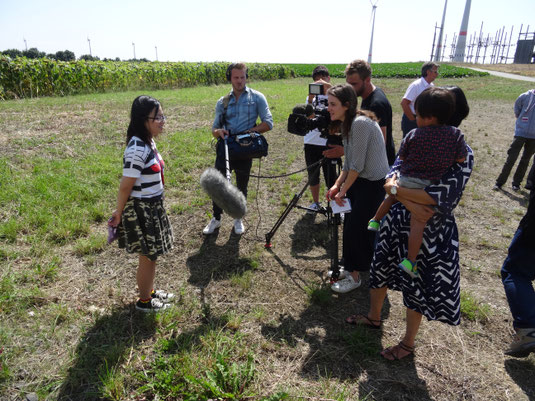 Atsumi Ai (foto from Aug. 2016 during a stay at juwi company in Wörrstadt, interviewed by a TV-team from SWR) came to Germany with the NPO EarthWalkers in 2016 along with its Senior Highschool Exchance Programm to study about energy shift in Germany, about renewable energy, about history, beside others. Her mother Ozeki Miki and Ai had  moved from Fukushima Prefecture two years after "3.11" to Himeji area. Ai wrote her story in 2016. Her mother's experiences - printed also on this website (https://www.andreas-singler.de/fukushima-福島/stimmen-der-mütter-母達の声/) - are published in the last chapter of my book "Sayonara Atomkraft. Proteste in Japan nach 'Fukushima'" (EBVerlag Berlin 2018). 
Hello.
I'm Ai Atsumi. I'm from Hyogo prefecture in Japan. I moved to Fukushima prefecture to Hyogo prefecture when I was 14 years old, because we felt worried about the Nuclear accident, so we decided to move to Hyogo Prefecture. I'm 16 years old now. It's been since 3 years since I moved. I can't believe it's already been 3 years. It's been 5 years since the great earthquake in the east of Japan. I live in Hyogo Prefecture now, so I won't speak about the current state of Fukushima Prefecture, but I'm going to speak about my experience.
I'll now talk about my experience 3/11/2011.
I was 11 years old. In a blink of an eye, my hometown had been hit by a major earthquake. When the earthquake occurred, I was still so young so I didn't fully understand the effects of the earthquake. However, I gradually began to understand the terror of radioactivity which was a result of the meltdown of the nuclear power station. Just after the earthquake had occurred, I was told that even at school. I had to wear long sleeves, long pants, a hat and a mask.
Even during summer, when it was hotter than 30 degrees, we had to wear long sleeves and pants. Also we were refrained from doing the pool activities, instead we had to stay inside, even if I was looking forward to it. There were even rules about a particular time we were allowed to go outside everyday, but as time passed this caution was neglected.
Opinions regarding radioactivity varies from person to person, both in the adult world and the children world's. There were families who worried about the radioactivity and those who didn't. Even if the opinions are differed from person to person that is okay, but if someone is no longer going to get along with others became a difference in opinion. I think that is wrong, because of the radiation, I felt as if the communities' relationship became stronger. 
My mother protected me from the radioactivity, even till this day. Even at school they do not teach us the truth, but I have decided to protect myself since I became sick. I had a nosebleed and diarrhea all the time. Because of this, my mother sent me to my grandmother's home to live. My grandmother lives in Fukushima Prefecture, however, her place is safer to live because of the lower concentration of radiation. I made many friends at the new place. Every day seemed to be a happy day, but we didn't talk about the radiation at all, but one day, I told my friend that I was exposed to radiation when I was 11 years old.
Then I felt that she didn't understand what I was talking about and that our friendship began to estranged. Since then I decided not to talk about radiation to my friends. I see her occasionally, but I don't talk to them about it at all. Even though people say the level of radiation is low in my grandmother's place, she still lives in Fukushima. So we made up my mind to move out from Fukushima Prefecture. We went to Hyogo Prefecture for the long holiday.
I have some friends there, so we decided to live in Hyogo Prefecture. I go to Democratic school now. This is why I felt that public education didn't suit my style of education. I'm very happy now. I'm satisfied how each day goes.This is what I have experienced so far but I'm still experiencing new things. It is fact that I'm from Fukushima Prefecture, but sometimes I feel ashamed of this. Sometimes I think what I would do, if someone says "Don't go close to her because she was exposed to radiation".
Why do I have to feel this uneasiness? Why does the government not doing anything to help? Even if the government does something, this isn't put into action. It is very sad. Because I feel, as if the actions of the government had been properly put into action, I wouldn't feel as if I have been thrown out from my own country.
After the earthquake my mother and father divorced, because their opinions differed about the radiation. I felt as if my family was broken. I felt extremely emotionally and mentally weak.I never want anyone to feel this kind of sadness again.
This is why I talked about my experience today, so that you could understand what is going on in Japan now.
My experience is only one out of many thousands, but please don't forget my story because it reflects a part of our reality.